Certified members of the International Association of Orthodontists and Implantologists are expected to complete the following three stages of requirements:
1. Member
Doctors can go to http://iaoi.pro/ to apply for membership to join iAOI. Registered members will have the right to purchase a workbook in preparation for the entry exam.
2. Board eligible
All registered members can take the entry exam. The examinees are expected to answer 100 randomly selected questions out of the 400 ones from the iAOl workbook. Those who score 70 points or above can become board eligible.
3. Diplomate
Board eligible members are required to present three written case reports, one of which has to be deliberated verbally.
Verbal exam-case report
This is a single case report for each presenter and all presenters as well as evaluators are kindly requested to follow our time management policy. Each presenter is given 12 minutes to present. The first ring will be on in the 10th minute and mic will be shut down in the 12th minute. Followed by each presentation, evaluators will be given 8 minutes in total for comments. All evaluators' mic will be shut down in the 8th minute. This means if the first evaluator has spoken 6 minutes, the second evaluator will only have two minutes to comment. Further comments will be provided in the form of writing.
The case report will be evaluated based on the following criteria:
(1) Case report was presented in a well-organized, logical manner.
(2) Demonstrated thorough knowledge and understanding of this case.
(3) Appropriate audiovisuals were used which aided my understanding.
(4) Quality of treatment met the IBOI standards*.
(5) Case records are well documented and of high quality.
* Please refer to the IBOI DI, IBOI CRE, IBOI P&W for more information on the IBOI case evaluation standards.
Members successfully passing both written and verbal examination will then be certified as Diplomate of iAOI.
4. Ambassador
Diplomates will have the opportunity to be invited to present six ortho-implant combined cases in the iAOI annual meeting.
Afterwards, they become Ambassador of iAOl and will be awarded with a special golden plaque as the highest level of recognition in appreciation for their special contribution.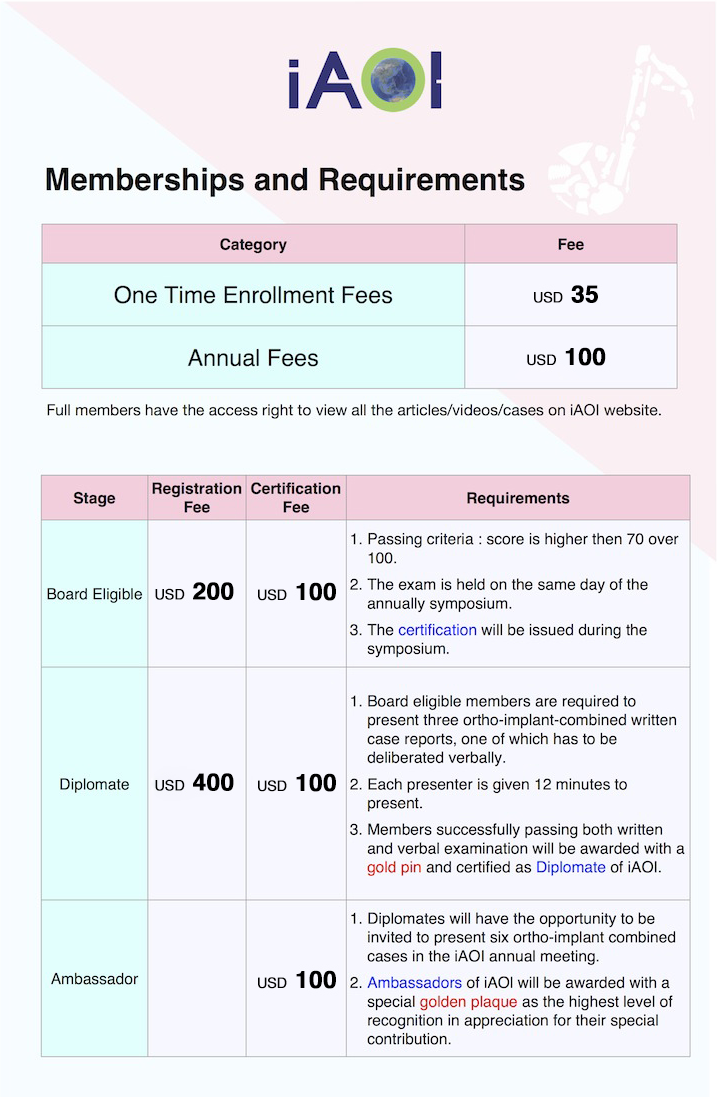 Remittance Instruction

BENEFICIARY BANK

JIH SUN INTERNATIONAL BANK (SWIFT CODE:JSIBTWTP)

BENEFICIARY BANK ADDRESS

NO.10, SEC.1, CHONGQING S. RD., TAIPEI CITY, TAIWAN R.O.C

BENEFICIARY NAME

International Association of Orthodontists and Implantologists

BENEFICIARY A/C NO.

326-2737621-00